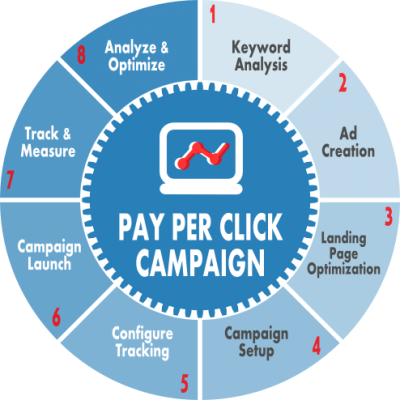 PPC Marketing
Having the right team manage your Search Engine Marketing or your Google Pay Per Click Advertising can really spruce up your marketing campaigns. Our Professional and Expert PPC services can help get your ads the highest exposure and relevant clicks.
Get instantly noticed with our eye catching PPC Management services. Get High Value Clients when you need them most;
Use our SEM expertise to lower your costs and have high ROI ad campaigns delivered

Video Advertising
Let us scour your customer database and find the best video platforms to place your ads. Our skills are honed with hours of experience in video advertising.
PPC Remarketing
Customers have short attention spans. We've developed our PPC Remarketing strategies to send a subtle reminder that pushes the customers towards completing purchases
Social Advertising
We've already had a large amount of success with our social advertising campaigns. We've mastered the art of advertising on Facebook, Snapchat and Instagram among others
Display Advertising
Over 2 Million Websites and 6,50,000 Apps use Display Advertising. You cant trust use to cut through the clutter and target your customer where they are.
Social Advertising Projects
Successful PPC Remarketings
Successful PPC Remarketings