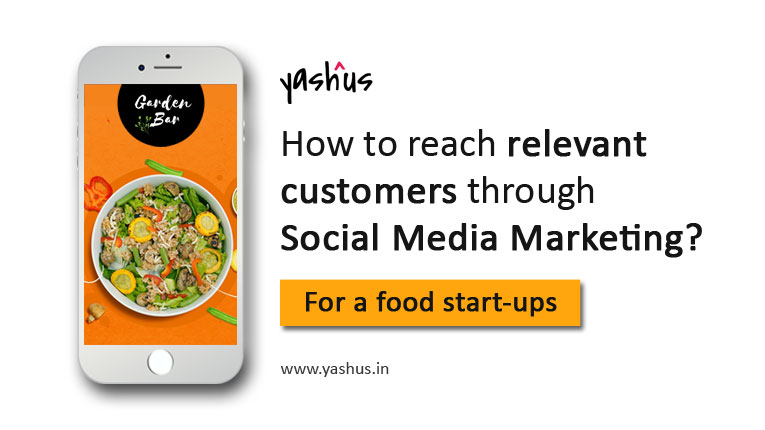 How to reach relevant customers through social media marketing – A food start-up case to discuss
Challenges faced by Garden Bar
Garden Bar is a portal to healthy food heaven for anyone who loves salads and soups. It has a feeling of love and warmth of homemade food but it also has all the necessary nutrients required to maintain a healthy diet. 
The most important characteristic for an online food and beverage service is to have a magnanimous online presence. As we all know, there is a lot of competition in the food and hospitality industry and you need expert knowledge of social media marketing to bring it to everyone's notice. Garden Bar was also facing this exact challenge. People were finding it difficult to identify and engage with their brand and Garden Bar was not able to reach health conscious customers specifically through digital media. It was our task to create brand awareness and divert health conscious, targeted audiences to encourage them to buy online. 
Increasing online presence through social media marketing
With a creative and consistent social media strategy, we helped Garden Bar achieve 'more than 200 salad subscriptions in a month'. The key was to post creative and engaging posts on all of their social media pages which would attract more and more online audiences. The content explored all parts of their business/service, thus letting the audience know what all Garden Bar had to offer. We also ran a dual campaign, where we looked for prospective customers who could benefit from visiting their page, to drive more traffic towards their page and bring back the customers who had already visited their page to encourage website sales through remarketing. Here are a few social media promotions which helped us to increase their brand awareness and encourage people to subscribe to their excellent services.
Promotions on social media platform-
We perfectly amalgamated artistic and visually appealing creatives with attractive, short content which helped rope in more and more customers to Garden Bar's social media pages. We also boost (paid advertisement) post as per target audience demography.  An important factor of social media marketing is consistency. The more frequently Garden Bar's posts were posted online; the more people began to take notice of their services and benefits. This is called branding or imprinting your business's name on the audience's mind.
Acknowledging queries of customers-
Social media is a two way lane. It allows you to reach out to potential customers but it also allows your customers to reach out to you and ask you more in detail about the services you provide. We promptly answered all the queries received from customers which guaranteed customer satisfaction and encouraged engagement.
Social media optimization-
Social media optimization includes using RSS feeds, social news and bookmarking sites, as well as social media sites and video and blogging sites. SMO is similar to SEO, in which the goal is to drive traffic to your website. We used Facebook, Instagram and Pinterest to optimize Garden Bar's online presence.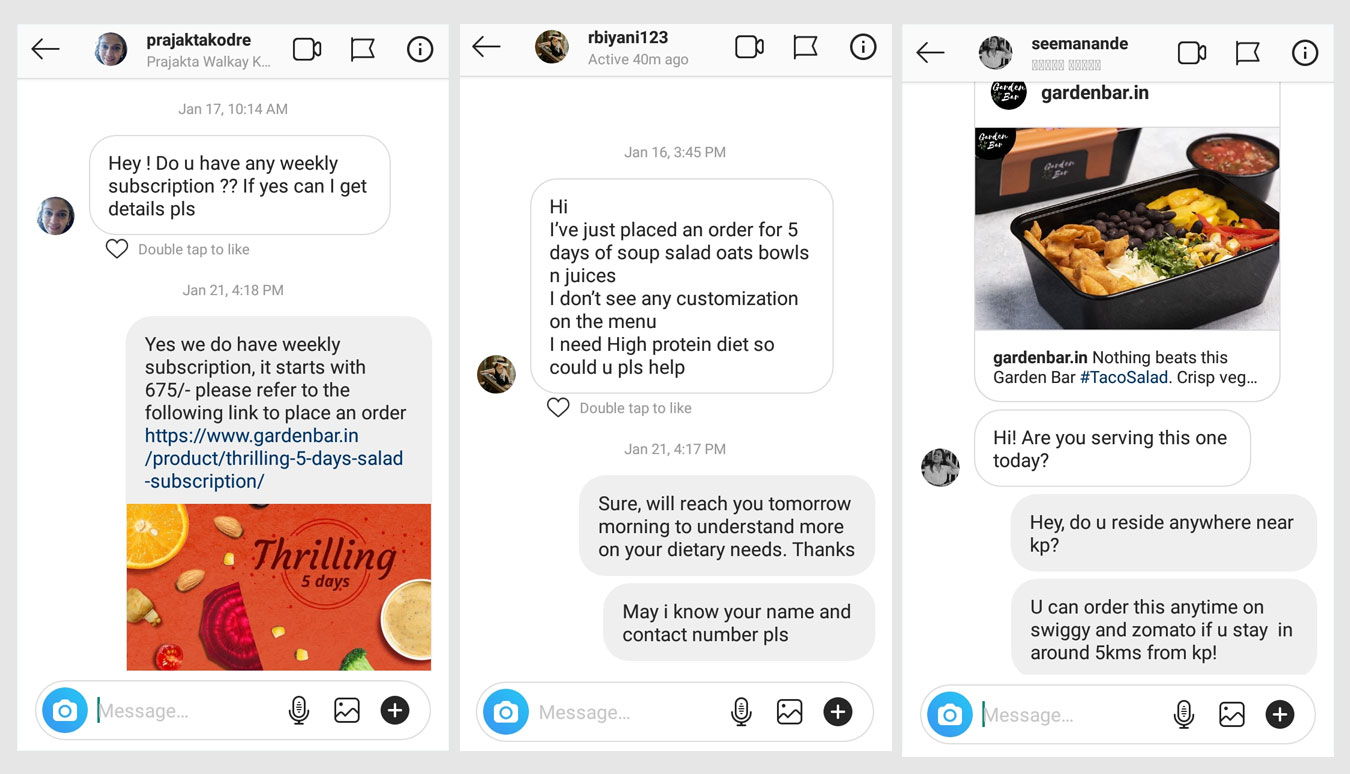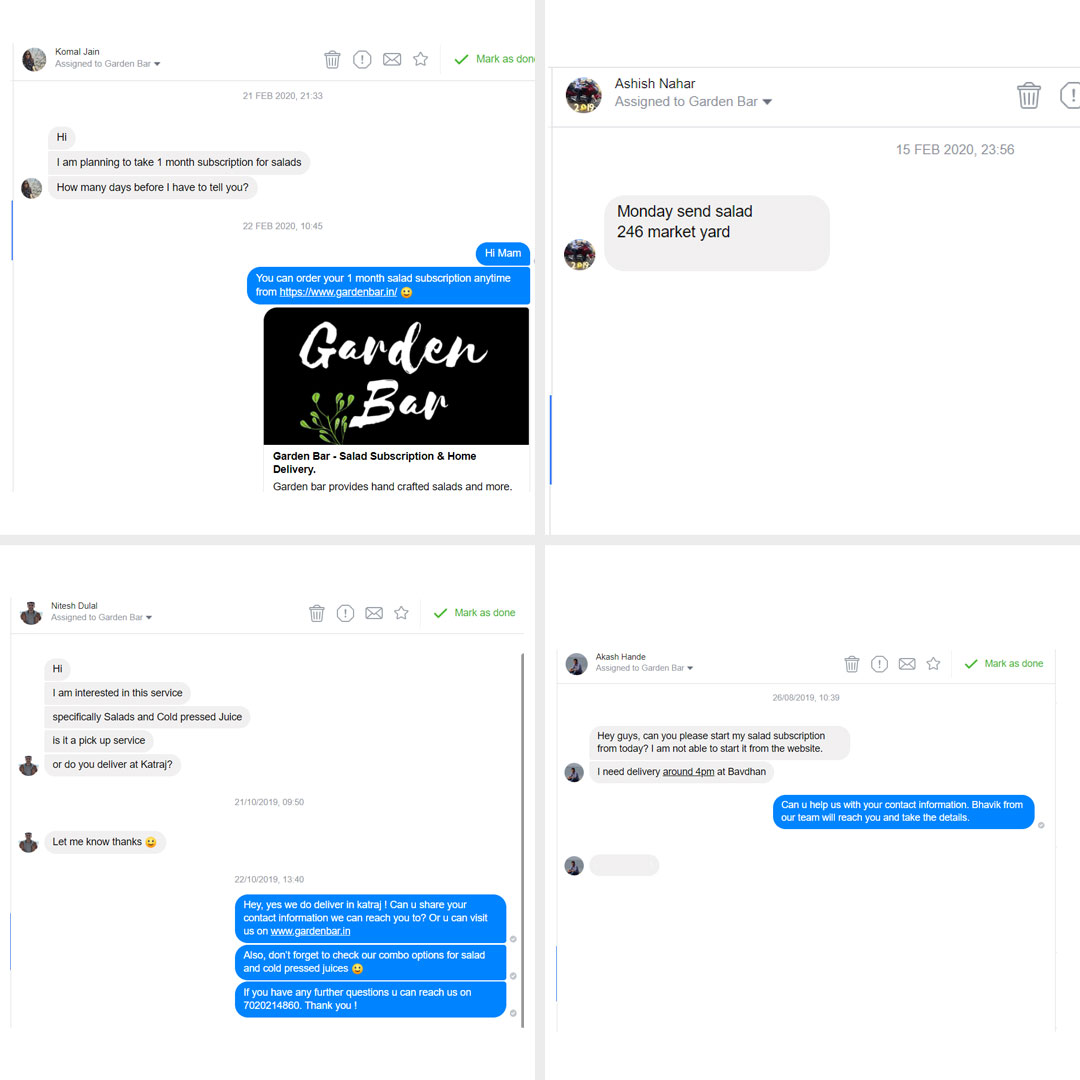 GMB post and optimization-
Google My Business is a powerful tool that can increase your revenue and provide valuable insights about your customers. It is a listing of your business' operating information, reviews, posts, and so much more.
Facebook promotion: sharing content in the groups-
Another beneficial factor or "social media marketing strategy" is Facebook groups. There are thousands of public/private groups which are created by like-minded people. We specifically targeted the groups which adhered to healthy food, healthy lifestyle in order to make them aware of Garden Bar's food services.
The above excellent strategy and execution has resulted in 10 times the increase of orders within 45 days of the campaign.
If you are looking for a similar kind of customer acquisition through social media marketing for your business, visit our website or call – +91 – 9370573598 to know more about social media promotions and creative services. We offer a range of digital services which can help bring your business in the limelight and drive more traffic to your digital properties.