Facebook Advertising Agency
Not sure whether to invest in Facebook marketing or not? Well, a platform with more than a couple of billion users is worth investing in. Moreover, Facebook is transforming itself into a business-centric platform, making it easier for brands and businesses to reach out to their target audience with ease. So what is Facebook marketing, and how can a Facebook marketing agency help you out? Let's find out.
Create a lasting relationship with customers
Generate quality leads
Reach a wider target audience
Attract traffic to your content on various platforms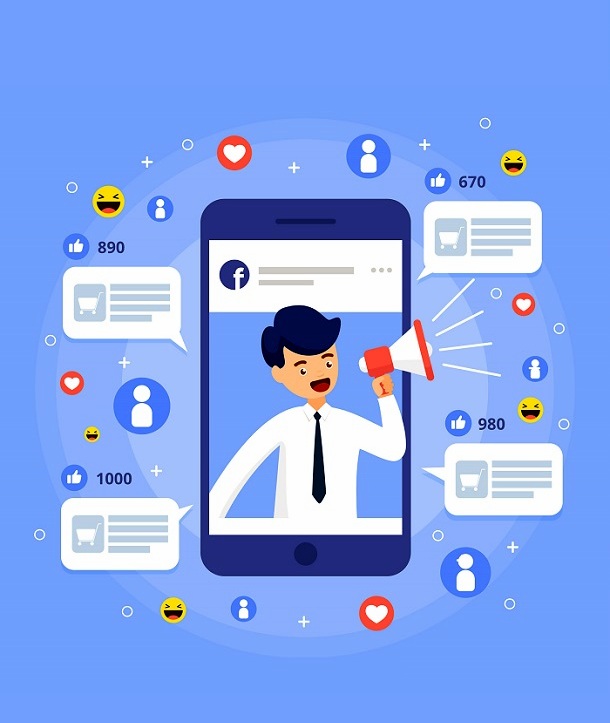 Facebook advertising is similar to display advertising on all other social media platforms: you create an ad, specify your target audience, select your budget, and run advertisements. Although the process might look simple on paper, it is much more complicated when applied.
Facebook is not only the largest platform by the number of users, but it is the most popular channel for business promotions as well. Therefore, you are contemplating promoting your brand or product on Facebook; the chances are that thousands of brands are already running similar promotions.
In such cases, facebook marketing can be a hassle, but consulting a reputed Facebook advertising agency can be of great help. A Facebook advertising agency in India can help you identify your target audience, and enable you to run effective display advertisements to ensure better ROI and conversions.
Facebook ad campaign services – Generate quality leads, with specialized campaigns that target groups based on age, gender, location, interests, and more. This allows for highly optimized marketing efforts that drive profits in the way of your business.
Scale your business – Harness the power of Facebook ads on various digital platforms. These ad campaigns are easy to measure and carry features to advertise on apps beyond Facebook, where numerous people regularly spend their time.
Download our new whitepaper today – a beginner's guide to generating business leads the inbound way
The Facebook advertising done by Yashus helped my brand reach out to more people, and increased sales. The team understood my expectations and delivered results that were spot on. One of the best agencies to work with for social media advertising.
The Yashus team determined where my past Facebook ad campaigns were lacking, and developed a strategy that got me results that surpassed expectation. I am incredibly pleased with their services and recommend them.
Facebook Marketing Services
Facebook marketing involves an entire range of solutions on Facebook that can contribute to brand growth. From running paid advertisements to posting strategic content, Facebook marketing includes it all.
The primary purpose of Facebook marketing is to introduce your brand to the target audience in a creative, innovative, and entertaining fashion.
We will provide you the following Facebook ad marketing services:
Facebook display advertising
Strategic content creation and scheduling
Attracting more followers
Engaging the existing followers
Planned-out collaboration
Drive sales
Different Facebook marketing services can have several marketing strategies, but the practices mentioned above are standard and utilized by all.
Facebook Messenger Marketing Agency
Facebook messenger marketing is one of the hottest Facebook marketing strategies, and a Facebook messenger marketing agency can help you efficiently utilize this practice. Messenger is one of the most-used Facebook platforms, as it provides seamless communication with friends and family.
Brands can leverage this platform to offer a similar experience, introducing prospects to their products and services in a more direct and familiar manner. If you want to drive more sales, you can create affiliate programs and seek the services of an affiliate marketing agency.
Almost all Facebook users use messenger; moreover, there is a large number of users that don't use Facebook but use messenger. Therefore, Messenger has a separate user base, and a well-planned Facebook messenger marketing strategy can help you utilize this platform to achieve exceptional results.
However, Facebook messenger marketing works similar to email marketing in terms of functionality. You choose your prospects first and then interact with them with well-woven content and strategy. Some business owners can stumble while approaching their prospects, which can have adverse effects. Thus, seeking the services of the Best marketing agency Facebook pages is crucial.
The Bottom Line
Facebook marketing is an excellent practice, especially if your brand has a related personality. However, it comes with its set of challenges as well; the most common out of them the best way to approach prospects.
Other problems may differ from brand to brand; some may face troubles with finding profitable collaborations, whereas some might struggle with identifying their target audience. In such cases, search for a Facebook ad agency near me to find an agency that can help you with your business objectives.