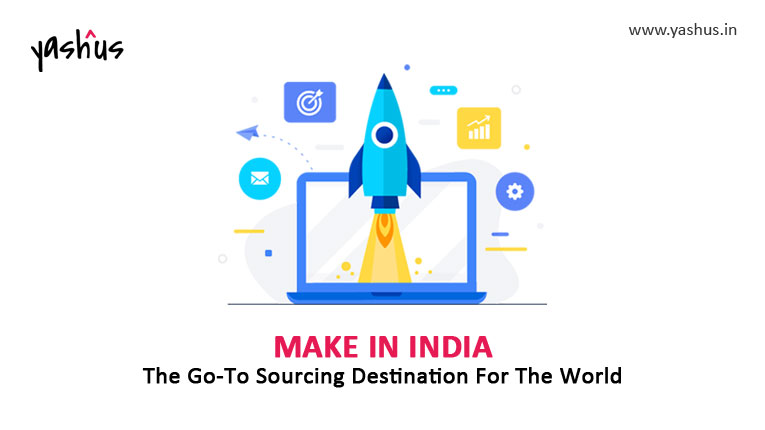 Make in India- The go-to sourcing destination for the world
Finding an opportunity in this crisis
Everywhere we look now, all we see is panic, pandemic, curfews, quarantines and global crises. Our lives have turned completely topsy-turvey in the last two months. Life as we know it has drastically changed where in the leading economies such as China and superpowers like America have been forced to back down due to the blasting force of this global pandemic. For the past decade, China was one of the rapidly growing economies in the world because it was a global centre for sourcing and supply chain. But due to the rapid spread of coronavirus, China is currently going through a black patch which is sure to have a huge impact on the dynamics of global trade. China today commands almost 19.25 per cent share of global GDP (based on PPP). This means the implications of supply chain disruptions are global in nature and will be felt across a number of sectors. This is the golden opportunity for most sourcing companies in India to grab and become the go-to sourcing destinations for global manufacturers.
Bringing the 'Aatmanirbhar' dream to reality
A lot of manufacturers, especially from the automobile and software industries are planning to initiate talks with Indian sourcing companies with the possibility of shifting part of their supply chain from China to India, with the hopes of diversifying their operations. Most Multinational Corporation have recently experienced severe disruptions in businesses due to the sudden spread of the pandemic which has brought the world GDP to a sudden standstill. In order to get back on the horse, they will need to have a strong support which they believe India will be able to provide. India is equipped with all the contemporary technology and skilled labour required to become a leading procurement and product sourcing destination. We have highly amicable trade relations with most other countries and our population is our biggest strength when it comes to low cost but skilled labour.
This is the time to bring our government's 'Aatmanirbhar Bharat' dream into reality by grabbing this golden opportunity and becoming the top procurement outsourcing services. And this is not just for global manufacturers but also for Indian manufacturers who were heavily dependent on China for raw material procurement or sourcing. This is the time for India to become self-reliant and self-sufficient without having the need to be dependent on any other country for product sourcing or procurement. India is very well positioned to help build a more dynamic and sustainable world.India has a competitive advantage in the services including the Information Technology Services, Pharmaceuticals, Biotechnology, and Medical tourism sectors.
The best way to grab the attention of international manufacturers
Even though global traders are actively seeking for alternative sourcing in the current scenario, it is very important for the leading sourcing agencies in India to actively market their services and strengths to grab the attention of the global industries. And this can only be done through a well strategized marketing plan. With the maximum use of social media platforms such as Facebook, LinkedIn and Twitter, sourcing and procurement companies in India can actively market their services to grab attention. Yashus is one of the leading digital marketing agency who can understand the business of  procurement and sourcing and we believe we have an upper hand here by having successfully worked with leading sourcing companies in India, with more than desirable results achieved through brand marketing, social media strategies and active lead generation. We promise to make you a shining star in the eyes of the global manufacturers for procurement and sourcing. Contact us today on www.yashus.in or call – +91 – 9370573598 to grab this golden opportunity and become one of the leading sourcing agencies in India and internationally.