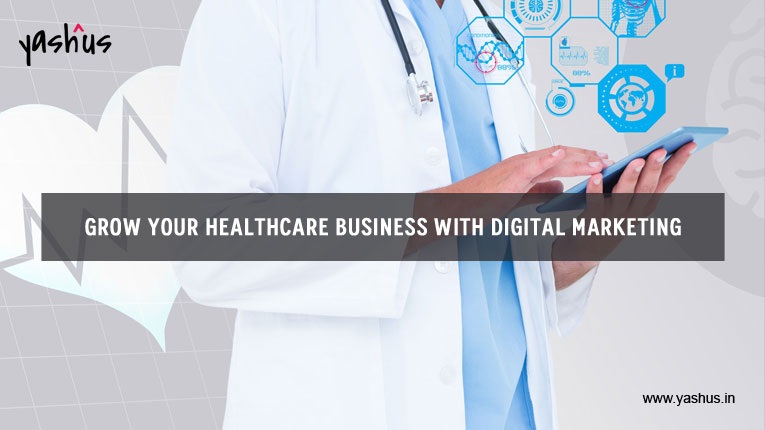 4 Best healthcare digital marketing practices proven to grow your healthcare business
Did you know, 73% of consumers use search engines to research treatment, and 55% of consumers use social media to choose their healthcare provider? These figures indicate that the healthcare business isn't conventional anymore.
These days, people won't readily come to you, but you will have to make your way to reach them, and promote yourself through digital and social media marketing!
Digital marketing is one of the most effective ways of creating a more extensive outreach and leverage the digital space to generate more business.
The 4 best healthcare digital marketing practices discussed in this blog will help you grow your healthcare business. These aren't just general tips, but real-world and proven methods Yashus Technologies implemented to help its healthcare clients grow their business.
How to grow your healthcare business through digital marketing?
1. Website Optimization
How website optimization helped IVF Spring Top the SERP?
IVF is a sensitive concern. Besides, a lot of risky keywords leading to negative publicity made digital optimization for IVF Spring even more challenging. However, Yashus began with a step-by-step process to develop IVF Spring's website.
Consistent efforts at all of the following helped IVF Spring top the SERP.
– Thorough research on keywords
– Targeting long-tail and high search result keywords
– Strategic social media planning
The above resulted in a 30% increase in the MOM traffic, 40% contribution to the total leads, and healthy 17% COA.
2. Social Media Post and Page Optimization
Optimizing social media posts and pages for a practicing physician amidst a highly regulated environment!
Dr Shrikhande, a leading practicing physician, promoted his hospital through regular content updates, and continual general health tips. Yashus's strategy helped Dr Shrikhande establish his authority in the virtual space. It helped increase the website traffic by 20%, 15 monthly leads, and a CTR of 1.5%, which is considered the best in the industry!
3. Keyword Optimization
How keyword optimization helped Global Star Surrogacy to achieve a staggering 272% ROI!
Surrogacy isn't a publicly talked topic. A lot of prospects visiting Global Star's website were reluctant to share their confidential information. Yashus came up with a Google Adwords campaign involving an initial low bid, and further capitalizing on high-result keywords to achieve optimal results.
4. Content Marketing
How Yashus's content marketing strategy, despite several competitors, increased the number of visitors and reduced the bounce rate of Digital Skills's website. Attracting people towards Digital Skills's blog was a challenge, given the fierce competition of well-established websites like Moz and Social Media Examiner.
Yashus's innovative approach, however, resolved this concern. Instead of blogs, Yashus marketed blog content as case studies and talked about real-time concerns and solutions through it. As a result, the bounce rate lowered considerably, and the website started receiving a higher amount of traffic.
About Yashus – The Leading Digital Marketing Services Agency in Pune
Yashus Technologies, one of the leading digital marketing and creative marketing services agencies in Pune, offers workable, sustainable, and result-oriented digital marketing strategies.
Over the years, Yashus has developed a strong reputation for being the most trustworthy healthcare digital marketing agency in India. However, besides healthcare, Yashus offers digital marketing services for other domains, including tourism, agriculture, banking, manufacturing, etc.
So, for positive results through digital marketing, connect with Yashus at +91 9370573598.