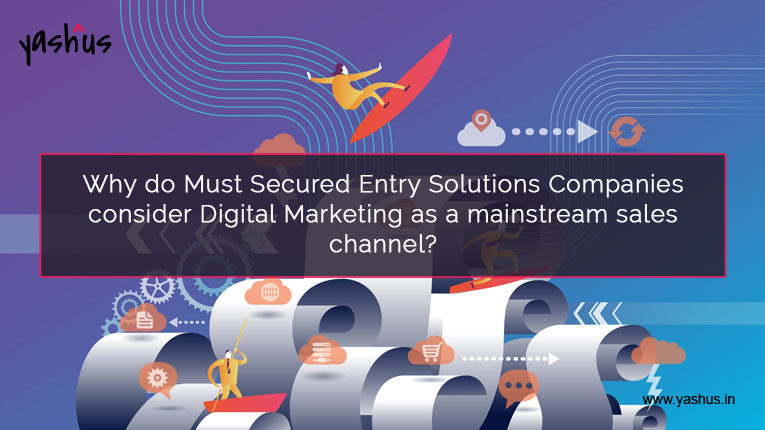 Why do must secured entry solutions companies consider digital marketing as a mainstream sales channel?
We have officially entered the fourth industrial era where IOT (Internet of things) will rule the roost. This change means there will be a higher demand for brown and green Smart Cities. Even existing urban cities have become much more complex to operate. Under such circumstances, security systems become a prominent player.
Houses and commercial establishments' main priority is security. The burgeoning populations will increase the chances of theft and burglary. So, even public places should have CCTV and other secure entry solutions. Thus, the companies in this sector have to become aware of B2B clients.
Under these circumstances, Secured Entry Solutions Companies must concentrate on B2B digital marketing. They will have to leverage marketing strategies to create brand awareness. They have to bring in the sales leads from corporate and companies to achieve profits in the long run.
Your customers are online
Research suggests that 94% of B2B customers conduct online research and businesses. They check various resources such as Google searches, supplier websites, blog posts, product reviews, and social media content. It means, every angry customer review of your brand, and your every promotional material is available to every potential customer. Now the security solutions provider must target B2B buyers. They can do so by altering their approach according to the buying behavior of B2B customers. They can also successfully leverage digital marketing strategies to reach these customers.
Sets you apart from other manufacturing industries
As we have mentioned above, more than 90% of customers check online resources. But a significant number of manufacturing companies do not have a digital strategy, yet. Their online presence has a vast limitation due to either an outdated website, weak social media presence or both. With the current dynamic scenario, what they need is a digital marketing agency for manufacturers. The marketing agency will create brand awareness and increase the client's online footprint. They will unleash content marketing strategies comprising blogs, social media posts, webinars, newsletters, and white papers.
Drive traffic, convert and nurture (turn clicks into contract)
Do not underestimate the power and reach of digital marketing strategies. An effective plan will drive the purchasing public to the manufacturer's website. Diverting and driving traffic to the site is a significant victory. From then on, the customer's attention must fall on compelling promotion, and that is the work of a dedicated content management team . Subsequent strategies will convert them into willing buyers. The easily navigable site, pop-ups, subscriptions, etc., are some of the nurturing strategies that convert clicks into a contract.
Digital marketing is measurable
Traditional marketing comprises of direct mail, radio ads, and expo exhibits. The success of these strategies and the rate of return on investment (ROI) is not easily measurable. But with digital marketing, data is a crucial component at every step. So, these strategies are not only accurate but also easily measured and tracked. Measurable goals can be predetermined, and calculating different metrics can help to check the ROI via each channel, campaign, and over time.
Showcases your capabilities
B2B digital marketing strategies rely on content creation and marketing. As a manufacturer, you can showcase your positives and strengths. The online customer can check out your case studies to learn about your expertise and your clientele. There will be transparency and accountability from the website. Motivate your clients to submit client testimonials for increasing the reliability of data. Top ways to attract new clients are educational blog content, exciting webinars, and timely social media postings.
Conclusion:
To sum up, we live in a dynamic and technology-filled world where security is a big concern. Urban areas and smart cities are coming up with much complexity. In this scenario, security solution providers have to explore the B2B online sales segment. They have to rely on digital marketing strategies to create a powerful brand name and increase their annual sales.