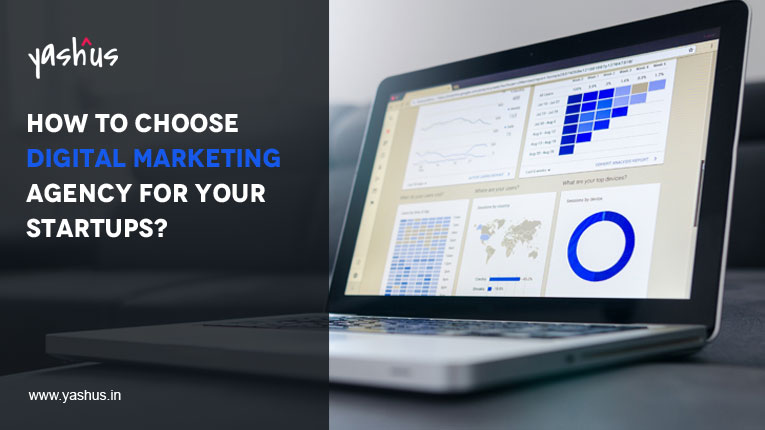 How To Choose Digital Marketing Agency For Your Startups?
We live in a world saturated with mobile and communications technologies. A startup company would find it challenging to navigate the busy internet. The help and guidance of a competent digital marketing agency for startups become all the more necessary. The tech-savvy marketers will assist clients in finding their spot above the competition.
They will help in devising efficient marketing strategies for the upcoming business partner. The online marketplace has various players, most of whom are well-established with a reputed brand name. In this scenario, the startup has to choose an able and expertise digital marketer. Here are a few tips to find the right digital marketer –
Know the digital marketing strategy of the agency
A reliable digital marketing services company will have an effective strategy. The first thing you do as a startup is to figure out your requirements. Secondly, you match these needs with the strategy offered by the marketing agency. The top agencies have a detailed list of services along with execution strategies. They also work in a time-bound manner without compromising the quality. Their strategy will also be modern, globalized, and in sync with your company's vision.
Check their experience and domain authority
Experience makes a huge difference in the world of online marketing. The well-established agency will have an experienced team. The digital marketing strategies devised by these experts are precise and efficient. They also stay up-to-date with all the latest tools and technologies.
Moreover, experienced agencies focus on result-oriented services. They choose a plan and execute it to the expected levels of customers. With a good domain authority, you can rely on their forecasts about trends and campaign ideas.
Know their packages for respective services
Digital marketing services span a wide range of activities. They include everything from tweaking the website to creating a blog. Find out more about the complete range of services offered by the agency. Top marketers ensure SEO, SEM, and mobile marketing services. They also provide brand awareness, global reach, sales leads, and return on investment(ROI) opportunities. Find out about the service packages along with the estimated prices.
Check their transparency and KPIs
Reliable agencies do not hide any details from their startup client. They will gladly share their digital marketing case studies with the client. You can also ask for reviews to gauge the level of customer satisfaction they generate. Make sure you have all the key performance indicators at your disposal. These KPIs include the number of unique visitors, time spent on the website, bounce rate, click-through rate, and traffic source number. See if they are frank about budget allocations, terms, and conditions.
Visit their website and company
Check the marketing agency's website for additional inputs. See if their website is SEO friendly and trending. Ask them about their social media initiatives on Facebook, Instagram, Twitter, LinkedIn, etc.. Visit their office premises and understand the working environment. Look at their infrastructure and speak to their managers and other staff members. It is always best to speak face-to-face with the manager or the team, who would undertake your project.
Look for case studies and testimonials
Finally, do not ever underestimate the role played by case studies. They can reveal the agency's level of professionalism and contemporary relevance. In a dynamic market, you have to be sure that they are up-to-date with every minute detail, including Google search algorithms. Verify if the case studies and testimonials are real or fake. 
In conclusion, we can say that digital marketers positively assist startups. Make use of the above-mentioned points to find the best digital marketing agency. They leverage their domain expertise to deliver high-quality services. Their experience and practical strategies will help the startup find its niche audience on the internet.