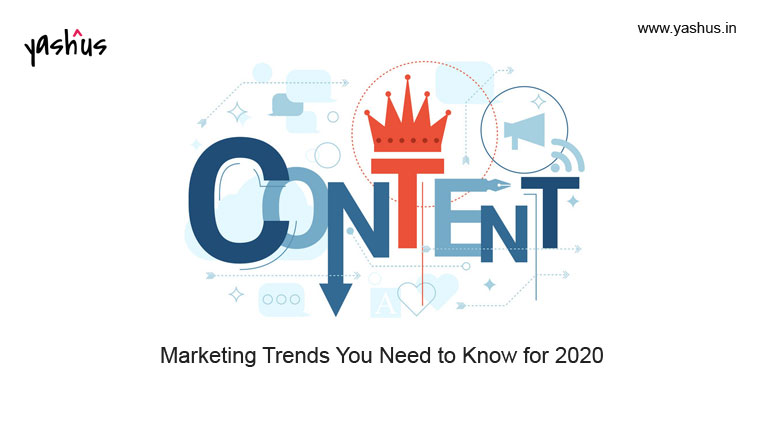 5 Content marketing trends you need to know for 2020
Are you on the watch out for the content digital marketing trends 2020? Then you are on the right track as the beginning of the year is an excellent time to modify any business plan. Online businesses are doing the same by tweaking their marketing strategies.
They are keen to explore more innovative and enticing trends in the world of digital content marketing. Their objective, of course, is to find and enter new markets to see an increase in traffic and sales figures. And being up-to-date is essential for achieving such business objectives. Here is a list of 5 content marketing trends that will find favor in 2020.
User-Generated Content/Long-Form Content
Long-form content is still an instrumental part of the content marketing strategy. Compared to short-form content, it achieves 30% more conversion rates. This user-generated content can include text, images, and videos. The objective is to create attention-grabbing content to engage users. This authentic content is also more likely to get more likes and shares on the social media platform. Besides, the quality of content can convince the user to turn into a buyer. According to studies on marketing strategies, user-generated content can hold the attention of those in the age group of 18 to 35.
Webinars and Live Videos
Live streaming of videos and webinars can create quite a buzz. This type of hot content is quite popular among the next generation of Internet users. According to a 2019 report by Animoto, 64% of consumers purchase after watching a brand video on Facebook. Also, forecasting reports show that videos will account for 82% of global internet traffic by 2021. So, we can safely say that the importance of video marketing will only keep growing.
Voice Search and Long tail keywords
AI speakers and voice assistants like Alexa and Google Home are becoming popular. A large number of people are asking these devices to find stuff on the Internet. So, spoken language and long-tailed keywords become very significant in digital content marketing. Voice and image-based searches will capture 50% of the search market. Since you speak to these assistants, voice search optimization becomes essential. The content and keywords thus developed must focus on how people talk or ask questions in their daily lives.
Dynamic content delivery
The best content marketing services stay trendy and deliver compelling content. The dynamic content is the web content that changes based on user preferences and demographic changes. The customer's behavior is also taken into account while delivering relevant email content. Those users who prefer tea will not see coffee maker ads or related blogs.
Similarly, those living in colder climates appreciate ads that are promoting winter wear as opposed to summer wear. This level of personalization grasps the attention of even casual users. It will only be a matter of time before they turn into loyal buyers.
Augmented Reality
It is a technology for superimposing computer-generated images on a user's view of the world. It combines real and virtual worlds to generate engaging content. The real-world objects with augmented reality can leave a robust perceptual mark on the user's mind. Immersive ads can establish an emotional connection with users. For example, buyers can see how various, colorful hats look on top of their heads, allowing them to buy proactively.
Conclusion
Every content marketing agency is looking to implement these innovative strategies. Are you ready to take the plunge too? If so, be prepared to take on the competitors with renewed vigor because the focused audience is the same. If you stay one among a hundred service providers, it is hard to make sustainable growth. It is time to use digital marketing to stay ahead and above the competition. Be prepared and be ready to create a buzz in the digital marketing arena.